Click on a stallion's photo for more information, videos and breeding contract

For Doaitsen contracts only the following discounts apply
$200 off 2nd contract for multiple mares (same owner)
$100 off for mares ster or higher
$100 off contracts received on or before 4/1/2020
$100 off for returning repeat customers
Unfortunately we cannot accept any new contracts from Canada. We will honor LFGs
Andries 415 Sport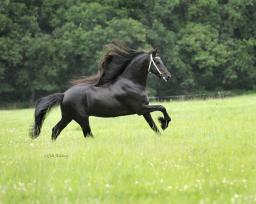 Tsjerk 328 x Nykle 309
Dam: Gitte
16.3 hands
1st in his approval class
Highest offspring scores for racial type in the US
Excellent offspring movement scores
High offspring scores for height and hair
Sport rated
No brothers/half-brothers in US
Son of the famous Tsjerk
From KFPS Offspring report Jan 15, 2013:
41% ster mares
12.8% 1st premie foals
67.2% 1st and 2nd premie foals
3 approved sons
2 model daughters
Doaitsen 420 Sport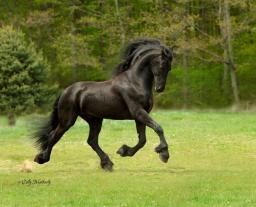 Wander 352 x Reitse 272 Pref
Dam: Wieke van Schuilenburg Model
2016-2019 USEF Friesian Sire of the Year!
16.3 hands
Most popular KFPS stallion in the world with over 450 breedings in 2009
Sport rated
2009 KFPS World Reserve Champion
From KFPS Offspring report Jan 15, 2013:
50% ster mares
19.5% 1st premie foals
76.8% 1st and 2nd premie foals
4 approved sons (Sake, Sjouke, Bene, Gergen)
5 model daughters
Titanium MFR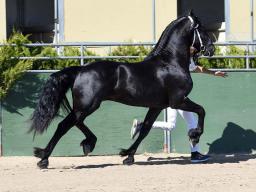 6.5 year old Friesian stallion
Alert 475 x Leffert 306
Dam: Fobke
17.1 hands
Titanium MFR is a very highly rated ster stallion. He received very good linear scores across th e board, with a 9 for racial type, a score rarely given.
Titanium MFR's pedigree, on the sire side, reads: Sport, Sport Elite+Pref, Sport+Pref, Sport+Pref, Sport+Pref.
His dam line is: Model, Ster, Ster, Ster+Pref, Ster, Ster
With this pedigree and his forward moving attitude, we anticipate great things from him as well.